Media Partners
Thys van Zyl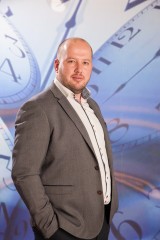 Thys was born in the small town of Bela-Bela in the North-West Province.
Thys grew up in a home were his family were all business entrepreneurs in different fields of the business fraternity and soon realized that you could sell your services to the open market, at a price that could be negotiated. His grandfather build his own truck from scratch with his bare hands, which paved the way to start his own transport business. This was allowed, even though he was still at school, on condition that he would still meet all his school responsibilities.
Thys started his business career in 2000 at the age of 16 when he approached the Total Group as a cashier in their store. Because of his good relationship with their customer base, he soon received an offer from the Spar Group, where he was employed in operations for the period 2001 until 2002. Thys matriculated at the end of 2002 after which he joined one of South Africa's largest Financial Services Groups as a Financial Advisor, during which period he excelled as one of the youngest Top Performing Advisors of all times. Soon afterwards he started his own business as a Franchisee and realized that this was what he wanted to do. "I always had a desire to be a franchisee, and realized it was just a matter of timing, having all the right pieces in all the right places at just the right time," he says.
Thys started off by working as a Cashier in the local Garage Tug shop, after which he joined The Spar Group, which made for great on-the-job training, and which came in handy later years when he stepped out on his own to purchase his first Pizza Perfect franchise in 2007. He eventually came to ask himself, "Why make millions of rands for somebody else when you have the ability to make it for yourself?" The Franchise industry became a reality when Thys and his brother Chris opened up their first Pizza Perfect, which is still in operation till today. Capital was raised from a chosen few, who included friends and family members and slowly but surely they started building their own empire. A passion for people (investors and employees alike) keeps Thys tirelessly focused on finding better ways to do things. Based on popular demand, Thys realized that the same value offering could be introduced to the general public, but this meant that the product had to be revisited, ensuring that it would meet all legal and corporate governance requirements.
He focuses on cultivating employee relationships by spending time observing, guiding, coaching, and encouraging employees in both the individual franchise stores, as well as the corporate office. Thys continues to drive operational excellence across the core product portfolio through product rationalization and key process initiatives while simultaneously strengthening the company's competitive advantage through key acquisitions. He has driven growth through innovation and has given birth, to a new market segments such as The Franchise Co.'s own brand name products, as well as ensuring The Franchise Co.'s investment in a diverse portfolio of own brand franchises.
See other speakers