Media Partners
Jeffrey Mulaudzi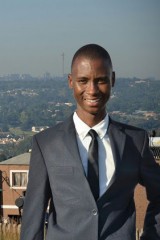 Jeffrey Mulaudzi was born and raised in Alexandra Johannesburg where he lived with two siblings and his mother who is a domestic worker. Growing up with Dyslexia made him restless and also pushing to be unique as competition was tough at school and outside.
In 2010 he gave his hockey coach a tour of his hometown Alexandra by bicycle, he enjoyed it so much that he immediately called up four of his friends, with the money they gave him he bought two more bicycles and that is how his Buvhi Group ( Alexandra Bicycle Tours) was created. .
Different from other entrepreneurs he started a Group Company operating 3 independent companies namely:
Buvhi Entrepreneur Development
Buvhi Insurance
Buvhi Tours (trading as Alexandra Bicycle Tours and transport services)
Unlike the bus tour offered Jeffrey wanted to give the tourist a closer insight of Alexandra giving them the opportunity to explore and interact with the locals, and not just sightsee.

Jeffrey recently opened a Entrepreneur Development Library in Ga- Molepo Limpopo and Alexandra Johannesburg.
See other speakers