Media Partners
Chuma Myoli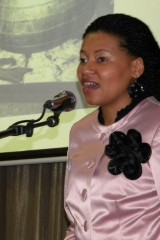 Chumna Myoli is the Customer Relations / Marketing Manager at Transnet Freight Rail (TFR) since September 2016, where her duties include Quarterly and Annual budgeting, Tracking of operational and financial performance of key accounts, Strategic planning of coal export flow and business unit, Strategic management of accounts and Annual development and review of sales strategy. Her previous role at TFR was as the key Accounts/ Marketing Manager & Acting Corporate Affairs Manager.
Prior to joining Transnet Freight Rail, she worked as the Communications & Marketing Coordinator at the Mandela Bay Development Agency; the PR & Events Management Officer at MBDA (August 2010 – March 2011), and Missionvale Care Centre and Board Member & Volunteer, as well as the PR & Events Management Officer (Jan 2009 – June 2010).
Myoli completed 2 years of B Comm Marketing at UPE (2004 – 2006) ; achieved a Business Management Diploma at NMMU where she graduated in (2009); completed GIBBS Commercial Capability Building Programme (2013); and completed the Ports Information Sharing Programme in Antwerp, Belgium (2013). She was one of 3 students selected by NMMU to represent the business school at Zhejiang University for the academic course "Doing Business in China" in 2015, and one of 10 students selected by NMMU to represent the business school on a leadership tour in 2016. Additionally she is one of the 22 students selected by NMMU to attend the business schools innovation tour in Minnesota, USA (2016).
Recently she completed MBA, Treatise Title: "Marketing Framework for the Container Port of Ngqura" – Graduation date April 2017, and
Submitted Doctorate proposal at NMMU for research title: "Positioning South Africa for destination marketing in global markets". If successful, research will commence in 2017.
Myoli was named the Nelson Mandela Bay Business Chamber Top 40 under 40 achiever for 2011, and the youngest Missionvale Care Centre Trustee member. Other achievements include becoming a member of the Port Elizabeth Chamber of Commerce Health and Wellness Task Team Committee; and member of the Executive Mayor's Education Task Team (2011 – 2013). She became well known for giving public/motivational speeches to empower women and teenagers at various high school events.
See other speakers